[Stillwater, Sep 2023]  A postcard showing a picture of what Rattlesnake Curve near McKusick Lake in Stillwater looked like in 1908. Stillwater resident Matt Thueson was announced Sept. 14, 2023 as the winner of this year's Stillwater Area Community Foundation's Great Idea contest. He won a $10,000 grant to install QR codes at sites in and around Stillwater that would link to historic photos and information about each location. (Courtesy of Matt Thueson)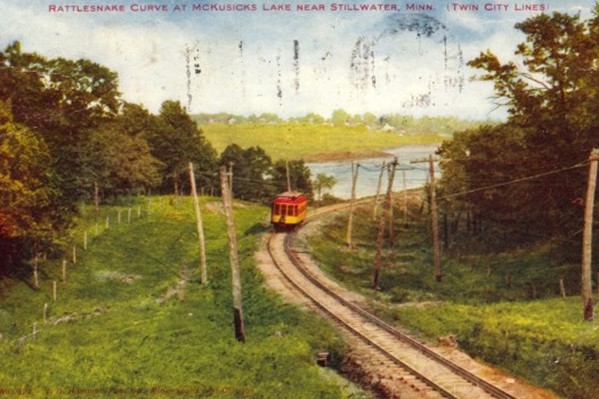 By Mary Divine | [email protected] | Pioneer Press
PUBLISHED: September 15, 2023 at 1:55 p.m. | UPDATED: September 17, 2023 at 12:18 p.m.
Stillwater, known as the "birthplace of Minnesota," is famous for its history, but it can be difficult to envision how and where historical events took place.
Stillwater resident and history buff Matt Thueson is working to change that.
Thueson has come up with a plan to install QR codes – square matrix barcodes that can be scanned using a smartphone – in and around Stillwater that would link to historic photos and information about the site.
Thueson's idea, "Stillwater Area History Spots," is the winner of this year's Stillwater Area Community Foundation's Great Idea contest. He won a $10,000 grant to create a series of around 70 QR codes that will be "placed on sidewalks, in shop windows and on signposts particularly used by pedestrians in Stillwater, Marine on St. Croix and Bayport," he said.
Imagine walking on a trail near McKusick Lake and being able to see what the area looked like in 1908 when it was a segment of streetcar track known as Rattlesnake Curve. What if you could scan a QR code while standing at the top of the Main Street Stairs in Stillwater and pull up photos taken from the same location in 1865 or 1885?
Many people, for instance, probably don't realize that the downtown parking lot and pedestrian plaza next to Valley Bookseller on Main Street was the site of the Stillwater Lumber Co. mill – "the 1843 origin of the modern city," he said.
Thueson is working with the Washington County Historical Society on the project and plans to highlight sites pertaining to dozens of historic figures, including Black baseball legend Bud Fowler, Radio City Music Hall founder Roxy Rothafel, and circus family patriarch August Ringling – all of whom have connections to Stillwater.
"Fascinating stories are all around us, if we know where to look," said Thueson, who serves as chairman of the city's Heritage Preservation Commission and is a former board member of the Washington County Historical Society.
By making more of the area's stories accessible and visible, "we foster our area's distinctive identity for visitors, and the shared stories create closer connections among residents," he said. "We hope that among those who scan these codes may be the Stillwater area's next generation of local historians and storytellers."
Builds on past projects
Thueson, executive producer for digital media for St. Paul Chamber Orchestra, grew up in Stillwater and graduated from Stillwater Area High School in 1997. "I grew up surrounded by Stillwater history, but even for somebody like me, it can be hard to visualize where it was or what it looked like," he said. "The idea behind this is to tie our history to specific places in the community."
The Washington County Historical Society is offering support for linked resources and is the project's fiscal sponsor. "It's really a great way to learn about our history, and it will be a great asset to the public," said Brent Peterson, the society's executive director.
The signs with QR codes are expected to be placed in May, but they can be moved to accommodate public interest in subsequent years, Thueson said.
The Great Ideas Competition Committee was impressed with the project because it "combines the deep history of the St. Croix Valley with the ease and convenience of accessing history and context through a simple QR code," said Sheila-Marie Untiedt, committee chairwoman. "The QR codes will make history and context available to all. There is no fee to participate and no barriers to participate. We believe this program will be very appealing to young learners, as well as everyone else."
Another plus to the project: It builds on and complements initiatives such as past Great Idea winner Lens Flare Stillwater, which displays historic photos of the St. Croix River city via a website and apps, Untiedt said. In 2016, Robert Molenda, a retired 3M innovator and scientist, won a $10,000 grant to create the new mobile application.
Each year, the foundation accepts applications from residents, businesses, nonprofits and other groups who have an idea that will benefit local communities. Eight applications were submitted this year.
Thueson said he has been impressed by past winners of the competition and decided earlier this year to come up with an idea that would be "interesting for Stillwater people."
"I was inspired by writers who can talk to any person and find an interesting story in their life," he said. "I think the same is true with places. These places all around us have a fascinating story if only we can find a way to get connected."
Mary Divine | Washington County reporter
Mary Divine is a reporter for the St. Paul Pioneer Press. She covers Washington County and the St. Croix River Valley, but has also spent time covering the state Capitol. She has won numerous journalism awards, including the Premack Award and the Minnesota Society of Professional Journalists' Page One Award. Prior to joining the Pioneer Press in 1998, she worked for the Rochester, Minn., Post-Bulletin and at the St. Joseph, Mo., News-Press. Her work has also appeared in a number of magazines, including Mpls/St.Paul Magazine, Twin Cities Business Monthly and Minnesota Magazine. She is a graduate of Carleton College and lives in St. Paul with her husband, Greg Myers, and their three children, Henry, Frances and Fred.
[email protected]    Follow Mary Divine @MaryEDivine