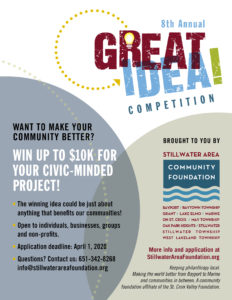 Stillwater, MN. – What would you do if you were given $10,000 to make your community better? Do you think you have a great idea and need funding to make it happen? Stillwater Area Community Foundation is now accepting applications for its eighth annual Great Idea Competition! Local individuals, groups, nonprofits, businesses and area organizations are encouraged to apply.
The winning Great Idea could be just about any civic-minded project that benefits one or more of our area communities by enhancing quality of life, making connections, or building civic pride. The winning idea might make life more enjoyable for residents, address an environmental concern, help under-served citizens or attract visitors. Eligible ideas must benefit communities within the Stillwater Area Community Foundation's service area: Stillwater, Bayport, Baytown Township, Grant, Lake Elmo, Marine on St. Croix, May Township, Oak Park Heights and West Lakeland Township.
Past winners have undertaken a wide range of projects including the Fairy Falls Restoration project launched in 2019. Previous year's winners include Power of the St. Croix Utility Box Mural Project, Beautification of the Stillwater Stairs, River City Sculpture Tour, Stillwater Dog Park, and Pollinator Friendly Alliance.
The Stillwater Area Community Foundation strives to diversify the kinds of projects they fund, and the places and people who benefit from it. Applications will be accepted beginning in January with the final deadline for submission of April 1, 2020.  For more information and the application, visit https://stillwaterareafoundation.org/great-idea-competition/
About the Stillwater Area Community Foundation
Stillwater Area Community Foundation is a non-profit, 501(c)(3) organization, established in 2010 by a group of community leaders as a way to enable people who love where they live to keep their philanthropic giving local. The Foundation serves multiple communities on the Minnesota side of the St. Croix River. And while each one has its own distinct identity, they share many of the same goals and challenges. By combining gifts, great and small, the foundation gives everyone the opportunity to become a local hero. The Stillwater Area Community Foundation is an affiliate of the St. Croix Valley Foundation.