(By: angiehongmn December 9, 2019, Buckthorn, Keeping water clean, Outdoor Adventures)  Nestled deep in the woods on the north side of Stillwater, Fairy Falls is a well-loved and well-guarded local secret. Unless someone tells you where to go, you'd never think to park on the side of the road and hike through the brambles on an unmarked trail in search of a cascading waterfall, steep gorge covered in ephemeral wildflowers, and a quiet forest on the far side of the hills. Once you're there, however, it's immediately obvious that you're not the first to come.
According to local historian Brent Peterson, Fairy Falls is a place of legends. When European Americans first settled the area, they would chase and trap deer at the base of the falls during hunting expeditions. In a tragic love story told by Rev. William Boutwell, the falls were also the end of the line for a young Sioux man and a Chippewa woman who tried in vain to run away as warriors tracked them down. Later, a "Pest House" built at the remote site was used as a quarantine location for Stillwater residents who contracted diseases such as small pox. Today, the waterfall and 60 acres of surrounding woods is owned by the National Park Service and is part of the St. Croix National Scenic Riverway.
Beautiful as the woods and falls may be, there is also an ugly side to Fairy Falls. Signs of human misuse abound – broken bottles and plastic bags, homemade ropes that dangle from trees and cliffs, graffiti on rocks and a wooden bridge that crosses the stream. This year, Stillwater residents Kyle and Nicky TePoel decided it was time for this well-loved destination to get a much needed make-over.
"Both of us remember it being our idea," Kyle says as we walk through the woods above the falls on a cold November day. "I saw a flyer for the Stillwater Great Idea Competition one day while I was at the gym, and when I talked to Nicky later that day she had seen the same announcement." The competition, run by the Stillwater Area Community Foundation, provides an annual award of up to $10,000 to citizens, groups, nonprofits and businesses who have a "great idea" to make the Stillwater area better. In their application, the TePoels proposed to create a Friends of Fairy Falls group that would work with the National Park Service and St. Croix River Association to clean up the property, remove invasive species, and make Fairy Falls safer to visit. It turned out to be a winning suggestion.
"Fairy Falls is a hidden, secret treasure, and it needs some love and attention," said Mary Richie, chairwoman of the Great Idea competition committee. Foundation members liked the fact that the project would bring neighbors and community members together, and that it would make Fairy Falls a more welcoming destination.
Over the summer, the TePoels invited 20 neighbors to a kick-off meeting with staff from the National Park Service and the River Association. The group discussed several concerns, including litter and graffiti, parking along roadways near the falls, erosion on steep hillsides, and underage drinking and drug use on the property. In September, the TePoels organized a work day to remove buckthorn and pick up litter. Next spring, they plan to continue their restoration efforts and may work on removing garlic mustard as well.
The Stillwater Area Community Foundation accepts Great Idea applications every year from January 1 through April 1, with winners announced in early June. The foundation supports work in Bayport, Baytown Twp., Grant, Lake Elmo, Marine on St. Croix, May Twp., Oak Park Heights, Stillwater, Stillwater Twp., and West Lakeland Twp.. Previous awards have helped to create utility box murals, beautify the Stillwater stairs, create the Lens Flare historical photo project (www.lensflarestillwater.org), host the River City Sculpture Tour, and build a dog park and a pollinator park in Stillwater.
Kyle TePoel hopes that the Friends of Fairy Falls group will continue to grow and that their restoration efforts will inspire other people in the community to take better care of this unique location. As we walk back to the road, he bends down to pick up a discarded bottle. "If we work together," he says "it really shouldn't be that hard."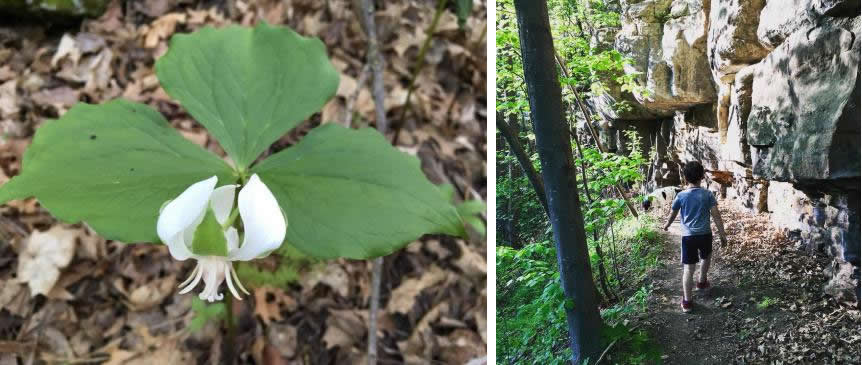 To learn more about the Great Idea Competition, visit stillwaterareafoundation.org/great-idea-competition. The foundation will begin receiving applications for 2020 on January 1.